This is the clearinghouse for the latest news and opinion on stormwater management in the state of Pennsylvania. This site serves as a supplement to our flagship Online Resource Center, www.StormwaterPA.org -- a must visit site loaded with information on Stormwater Best Management Practices, Case Studies, Regulations, Technical Details, and more.
Water Education Teaching Materials on EcoExpress.org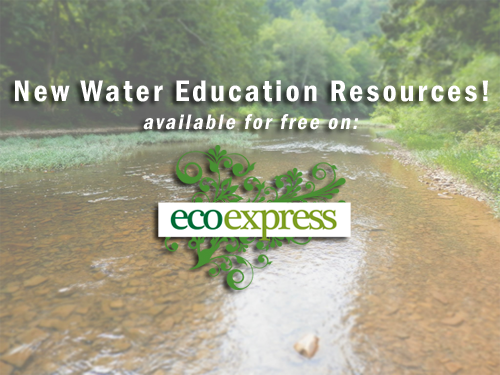 Did you know that our organization, GreenTreks Network, has a whole website dedicated to providing environmental education resources? EcoExpress.org is a website featuring streaming videos and complementary educational materials for teachers and students.
A number of videos recently added to StormwaterPA are also featured on EcoExpress. Since these new videos have been popular here on StormwaterPA, I wanted to point you all over to the great water education resources being offered for free at EcoExpress.org. Each video features excellent teaching materials, such as discussion questions, homework suggestions, classroom activities, connections to community partner organizations, and more. All of this content on EcoExpress.org is correlated to Pennsylvania's Academic Standards for Environment & Ecology and the School District of Philadelphia's Core Curriculum.
Firstly, you may remember the Lesson Plan Contest that we held following the release of our Rain Gardens: Saving Streams One Yard at a Time. The winner of that contest was a local third- and fourth-grade teacher. Yassir won a mini video camera as the prize for his inspiring submission. His great teaching materials are now up on that video!

Additionally, our resident science curriculum expert, Anita Brook Dupree also recently developed curriculum to accompany our new animated video, Clean Water: A Long Journey from the Source to Our Tap. Anita and I have highlighted this video at educational workshops since mid-spring, and the educators in attendance have all given us such positive feedback.
Please share these resources with the environmentally-conscious educators you know! And let us know what you think of EcoExpress.org in the comments below or at info@ecoexpress.org.
Alternately, find stormwater management resources for Rain Gardens: Saving Streams One Yard at a Time and Clean Water: A Long Journey from the Source to Our Tap on StormwaterPA.org.
Comments (0)