This is the clearinghouse for the latest news and opinion on stormwater management in the state of Pennsylvania. This site serves as a supplement to our flagship Online Resource Center, www.StormwaterPA.org -- a must visit site loaded with information on Stormwater Best Management Practices, Case Studies, Regulations, Technical Details, and more.
Desperately Seeking Stormwater Advice: Jason's Surprise Backyard Pond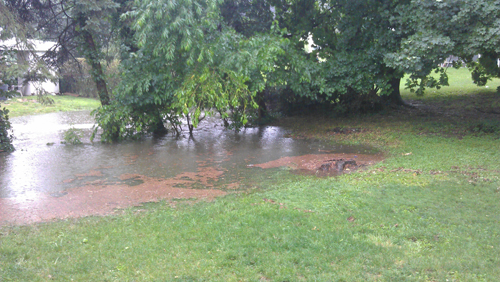 We get A LOT of stormwater questions here, which we wholeheartedly welcome. I love directing people to helpful resources and information, but it's also great to have the experts weigh in. Many of you that follow our website are out there in the field, establishing stormwater solutions throughout the region. You know what works and what doesn't. So we are going to start a new feature on our blog titled Desperately Seeking Stormwater Advice. (Are references to Desperately Seeking Susan completely irrelevant anymore? If so, I may be getting old.)
Jason lives in Camp Hill, Pennsylvania, which is in the Chesapeake Watershed. He's faced with some major stormwater problems in his backyard. In his own words, here is Jason's dilemma:
"The run-off water (every time it rains hard) drains right into my back yard causing a pond every time.  This pond sits there and puts so much pressure on my basement walls that the sump pumps cannot keep up with distributing the water from underneath the house. I get water in my basement all the time from this pond in my back yard. … It affects both of my neighbors yards as well."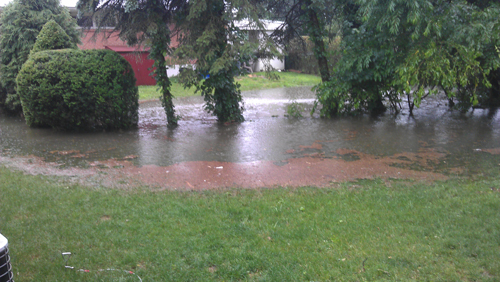 WHAT SHOULD JASON DO?!
Write your suggestions in the comments or email info@stormwaterpa.org. We'll update this page with your stormwater advice!
Comments (7)
I am a student in the Harrisburg Area Community College Ornamental Horticulture program. I am no expert, but I have been learning a lot about how the installation of rain gardens can help with problems like this. Jason's particular situation is extreme! Since his neighbors are also experiencing problems with ponding, it may help if they were all to install a rain garden or two on their properties. I'm guessing that like my soil in New Cumberland, Jason is most likely dealing with heavy clay which hinders infiltration during these nasty storms we've been having. A great website that discusses stormwater runoff solutions on a residential scale is http://www.delafleur.com/168_Elm/. I attended the Chesapeake Conservation Landscaping Council's 2011 Turning a New Leaf Conference and listened to a talk by Marcus De La Fleur, a landscape architect who had some great ideas for homeowners.

Thanks for the great suggestion and the great link there, Deborah! I agree; rain gardens are a great help with this sort of problem.

First, I would suggest that Jason discuss this with his neighbors to determine if any changes have been performed in the yards that altered the drainage patterns. If alterations have been done, correct them back to existing conditions.
Second, if possible install a drain or two and outlet away from the area. I suspect the infiltration will not work because of the soils and compaction.
Third, redirect the roof drains to the streets or intall rain barrels. This will help to reduce the volume of runoff to the backyards.

Thank you all very much for your feedback. I have been trying to get the City/Borough to get involved and it is like pulling teeth.

Mr John Wood - Thank you for your feedback, when you say install a drain or two, what exactly type of drain? I asked the city if they/I could put a sewer drain in my backyard right in the middle where the pond forms and they said that was impossible. Is that the type of drain you are referring to? How big of a rain barrel do you think I would need for all of the water, it gets about 2 ft deep at the middle of the pond?

Thank you!

Jason, I recommend to things: 1) Eliminate/reduce hydraulic pressure on basement walls and 2) Look for opportunities in the watershed to reconnect floodplains with streams.

If the water flows into your backyard, there's got to be a way for it to drain out. Talk with neighbors, municipal engineer, etc. about way's to improve natural drainage pathways. Look for opportunities up-slope to redirect water away from your area. Lastly, install a bigger sump pump.

Upstream in your watershed, look for opportunities to reconnect the stream/stormwater drainage with floodplains and wetlands. Floodplain wetlands can absorb significant amounts of runoff thus slowing peak discharge and lowering base flood elevation.

The dry well is a great idea. There are some restrictions on where those can be used so make sure to check out your local regulations