Cumberland County: Yellow Breeches Watershed
Highlights of the Yellow Breeches Watershed
Do you live in the Yellow Breeches Watershed? Learn about your local watershed, your community's water protection efforts, and WHAT YOU CAN DO to protect your local creeks, rivers, and streams...
Find Where You Live On The Map!
Click to view a map of your area. Find your street. Use the color-coded key to determine which watershed you live in.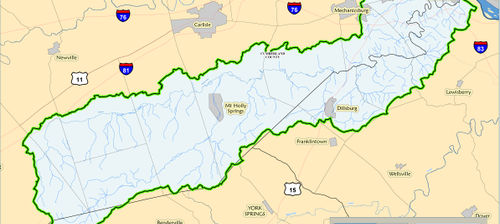 If you landed here, chances are your home, business or other property drains to the Yellow Breeches Creek. That makes your property part of the Yellow Breeches Watershed. The Yellow Breeches Creek drainage area is 219 square miles—or roughly 140,000 acres. It is a spring-fed cold-water stream consisting of 368 miles of tributaries and main stream channels.  Its origin is along Piney Mountain in Michaux State Forest in the Cumberland Valley. From there, it travels about 40 miles before it flows into the Susquehanna River at New Cumberland, PA.

Get the Full Story: Saving Streams in the Cedar Run Watershed
The Yellow Breeches flows through these Cumberland County municipalities:
Camp Hill, Lemoyne, Mechanicsburg, Mt. Holly Springs, New Cumberland, and Shiremanstown Boroughs; Cooke, Dickinson, Hampden, Lower Allen, Monroe, Penn, Southampton, South Middletown, and Upper Allen Townships.

Chesapeake Connection
Yellow Breeches Creek
drains into the
Susquehanna River
which drains into the
Chesapeake Bay